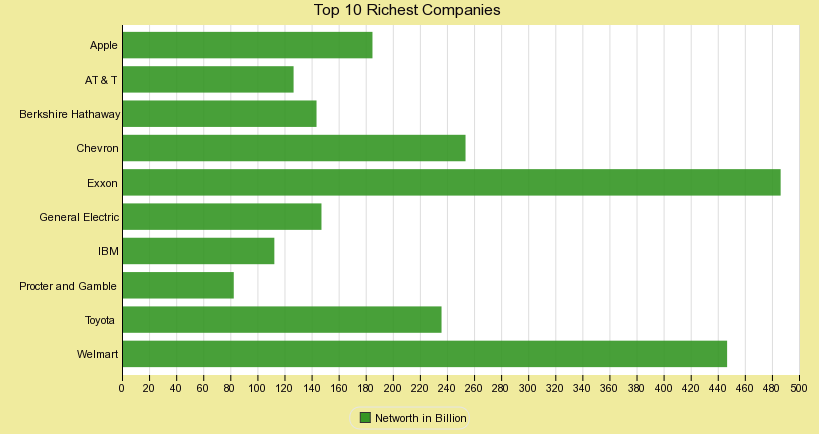 This chart shows the Top 10 Richest Companies in World.
A company is an association or collection of individuals, whether natural persons, legal persons, or a mixture of both. Company members share a common purpose and unite in order to focus their various talents and organize their collectively available skills or resources to achieve specific, declared goals.
Companies take various forms such as:
   1.Voluntary associations which may include nonprofit organization.
 2.A group of soldiers.
 3.Business entities with an aim of gaining a profit.
   4.Financial entities and banks.
| Rank | Company | Networth in Billion | Corporation | Headquarters |
| --- | --- | --- | --- | --- |
| | | | | |
| --- | --- | --- | --- | --- |
| 1 | Exxon | 486.429 | Multinational Oil and Gas corporation | Irving, Texas,US |
| 2 | Welmart | 446.9 | Multinational Retail corporation | Bentonville,Arkansas,US |
| 3 | Chevron | 253.706 | Multinational Energy corporation | San Ramon,California |
| 4 | Toyota | 236 | Motor Corporation | Toyota,Aichi,Japan |
| 5 | Apple | 185 | Multinational Technology Company | California |
| 6 | General Electric | 147.3 | Multinational conglomerate corpporation | Fairfield,Connecticut,US |
| 7 | Berkshire Hathaway | 143.688 | Multinational conglomerate holding corpporation | Omaha,Nebraska,US |
| 8 | AT & T | 126.723 | Multinational telecommunication corporation | Dallas,Texas,US |
| 9 | IBM | 112.5 | International Business Machines Corporation | Armonk,New York,US |
| 10 | Procter and Gamble | 82.55 | Multinational consumer goods company | Cincinnati,Ohio,US |
OOO
Henry Sapiecha